This small full tube amplifier is partly based on modified Fender Tweed Deluxe 5E3 circuit and to our own planning. It`s power amp is based on cathode biased 2xEL91 power tubes in push pull configuration without negative feedback. Amplifier output power can be reduced from 5-6 W even to 1 W with built in variac style OPC output power control. OPC is the most transparent power control soundwise in the market.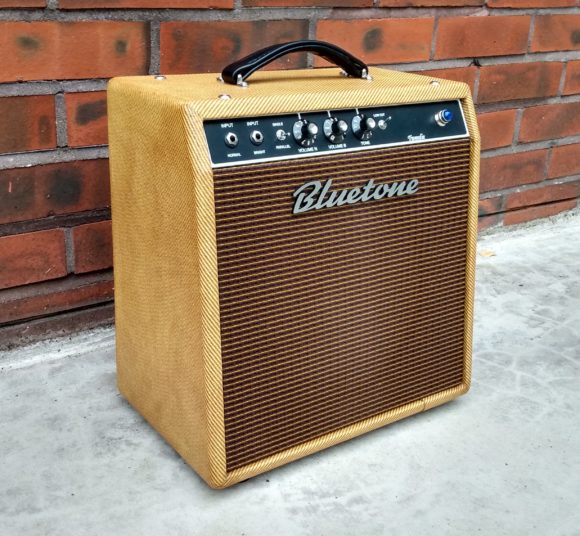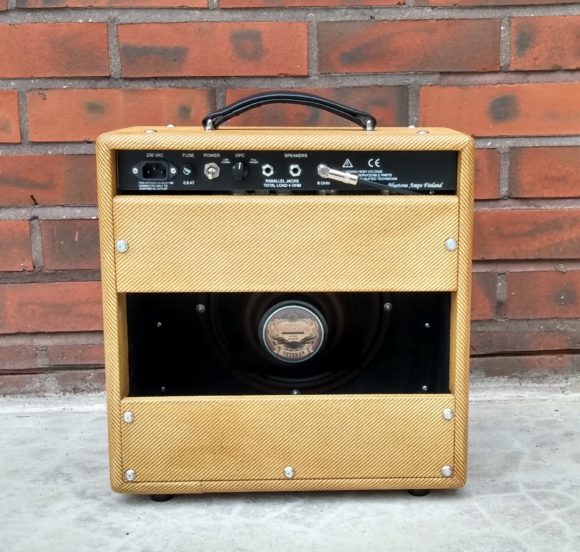 The amplifier contains two volume controls Normal and Bright, which are internally jumpered, one common Tone control, Single-Parallel switch and Low Cut switch, which is handy with distorted sounds. Moreover there is also our 3-step OPC output power control. This amplifier goes to dirty pretty early and suits also for lead guitar use. When planning this amp, our aim was to get Neil Young style guitar sounds even with bedroom levels. Speaker element is 10″ 20 W 8 ohm WGS Veteran.
Pricelist
Tweedie combo
– Cabin with normal tolex covering 980 €
– Cabin covered with laquered tweed 1080 €
– Cabin of oiled hard wood (mahogany) 1180 €
Options
– Buffered, adjustable effect loop + 100 €
– Adjustable unbalanced Line Out with jack or xlr-connector 80 €
– Cabin dust cover 60 €
You can have this amp also as a head version. If you are interested in of a head model, please ask an offer.
All prices include 24 % VAT and are subject to change without notification.
Save
Save
Save
Save