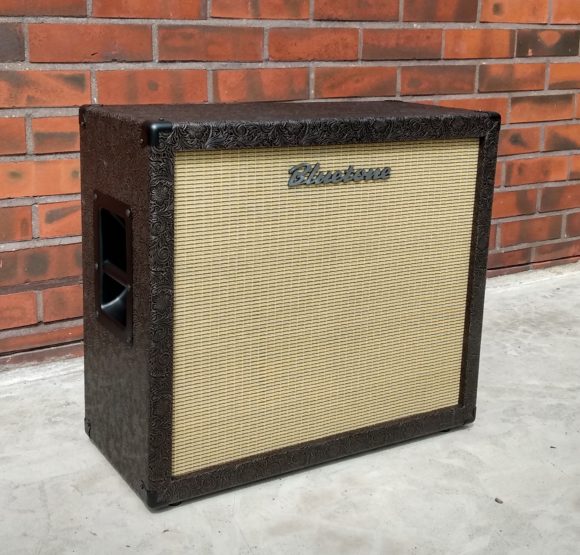 We manufacture different kind of speaker cabinets according our own vision and individual customer needs. The 2×12″ Bluetone Straight&Light speaker cabinet includes 2 pieces of 12″ 60 W Celestion Neo Creamback elements. Cabinet total power handling is 120 W and total impedance 8 ohms. Cabinet is built of lightweight Paulownia, which is excellent choice for speakers and combo cabinets. Cabinet back wall has been built of three pieces, which gives possibilty to keep it open or totally closed with a piece of tolexed plywood. Speaker total weight back wall closed is only 14,6 kg.
Specifications:
– Speaker elements 2×12″ Celestion Neo Creamback 60 W/8 0hm,
– Speaker elements 2xWGS Veteran 60 W/8 0hm, or 2xWGS Veteran 50W/16 0hm.
– Elements can be connected either parallel (2×16 ohm=total impedance 8 ohm) or in series (2×8 ohm=total impedance 16 ohm).
– Cabinet dimensions: Height = 58 cm, Width= 66,0 cm, Depth =30 cm.
– This cabinet can be equipped either with rubber feet or with wheels of which 2 can be locked.
Prices
– Cabinet with normal tolex 2xNeo Creamback speakers 690 €
– Cabinet with real laquered tweed 2xNeo Creamback  840 €
Options
– You can have this speaker also equipped with different speaker elements. In this case, please ask a separate offer of it.
– Cabinet dust cover 70 €
– Extra parallel input jack + 20 €
– Front baffel piping + 50 €
These prices include 24 % VAT and are subject to change without notification.