Many players really like the sound of fully cranked Plexi Marshall. In this case sound pressure is too much for many present gigging places. Our goal is to maintain that legendary plexi sound, but keep sound pressure in acceptable level. Our Plexi family contains now models from Plex 5 to this new Plexi 50. Despite of its moderate output power, Plexi 50 model suits very well also to all playing situations from bedroom to clubs. Its preamp topology is based on modded plexi Marshall and rest completely to our own design.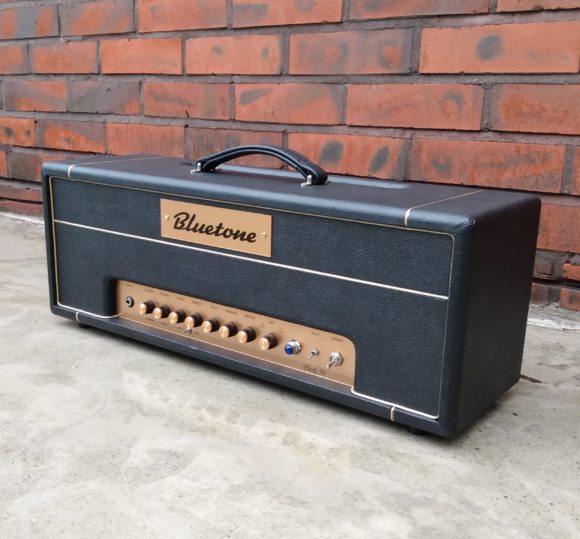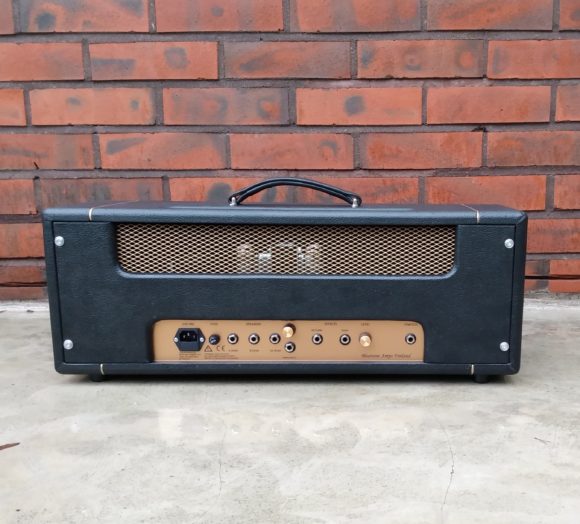 This amp puts out some 10-50 watts audio power depending on OPC (Output Power Control) position and the amount of distortion. The amp contains two volume controls Normal and Bright, which are internally jumpered, Treble, Middle, Bass tone stack and Split-parallel switch, which changes preamp circuit from JTM45 (parallel) to JTM50/Plexi (split), a  PPIMV Master Volume and a 3 step OPC output power control, which reduces output power from 50 W to 10 W without altering amp sound. When we were planning this amp, our aim was to get world class singing lead sounds without ear crushing volume level.
You can use all normal power tubes like 6V6GT, EL34, 6L6GC, 5881, KT66 with this amp. In this amp the power tubes have to be rebiased when they are changed. Biasing is fast and easy with our Bluetone Bias Rate meter or our wireless state of art WBC (Wireless Bias Control), where you can use your mobile phone to do biasig.
The amp cabinet is made of very light weight Paulownia timber. Amp total weight is only 9,8 kg. Head cabinet dimensions: L=66 cm, D=21 cm, H=25 cm.
Pricelist
• Plexi 50 Head
– Cabinet with normal tolex covering 1650 €
– Cabinet covered with laquered tweed 1800 €
– Cabinet of oiled hard wood (mahogany) 1950 €
Options
– Buffered, adjustable effect loop included in price
– Spring reverb with a footswitch 250 €
– Adjustable unbalanced Line Out with jack or xlr-connector 80 €
– Bluetone Bias Rate meter 120 €
– Bluetone wireless WBC biasing system 200 €
– Cabinet dust cover 50 €
• Plexi 50 Combo with a 1×12″ speaker
You can have this amp also as a combo version. Its price depends on speaker element. If you are interested in of a combo model, please ask for an offer.
All prices include 24 % VAT and are subject to change without notification.
++++++++++++
Save
Save
Save
Save