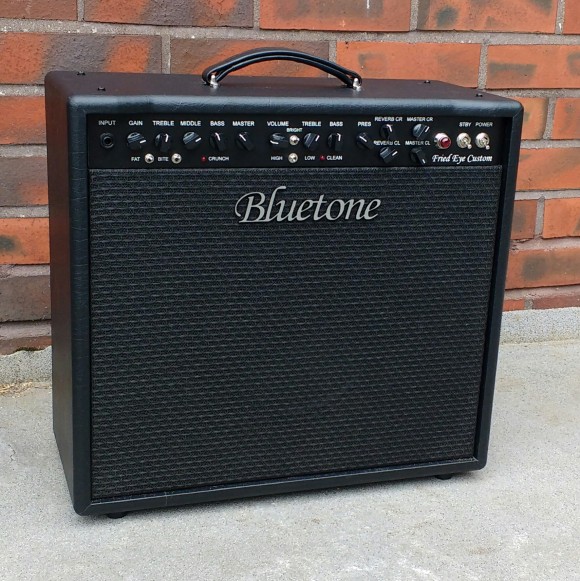 This customized Bluetone Fried Eye Custom combo contains following features: clean channel, which is based on modified Fender blonde Bassman 6G6-B model, crunch channel, which based on Bluetone Fried Eye crunch channel/Marshall world, individual spring reverb for both channels, a buffered, adjustable effects loop, cathode biased 2x6V6GT power amp giving appr. 15 output power, a 3-position output power control (Variac), headphone jack etc. Speaker element is a 12″ WGS Black Hawk Alnico. This amp weights under 15 kg.
—————————————————————————————————————————————————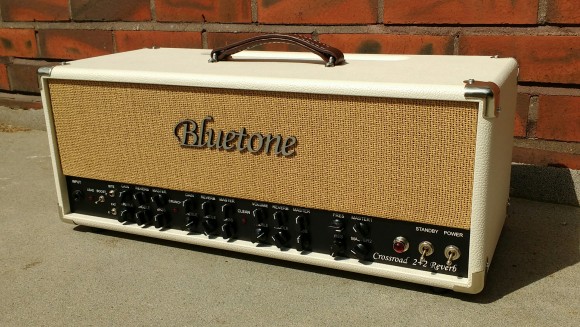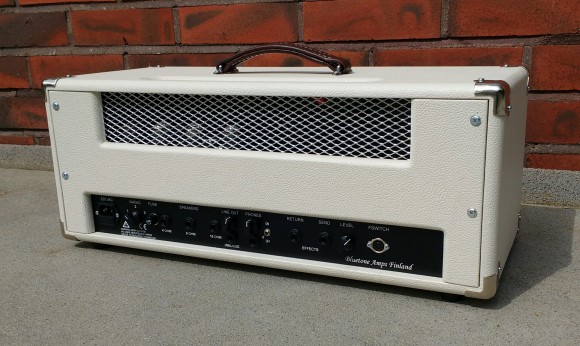 Despite Bluetone Crossroad belongs to our standard amp models, we decided to gather pictures and information of this very special 3 channel Bluetone Crossroad Head, which is going to one of our customers. This amp is maybe one of the most innovative hand made tube guitar amps ever. It contains following features:
Three independent preamp channels with individual eq:s and spring reverb.
Clean-channel is based on modified Fender world and is similar with Bluetone Dusty Road and Bluetone Fried Eye.
Crunch-channel is based on modified Marshall JCM800 world and is similar with Bluetone Dusty Road crunch channel.
Lead-channel is based on heavily hotrodded  Marshall-/Friedman world and is similar with Bluetone Fried Eye crunch channel.
Channel switching and part of effects are controlled with midi system. There is also a buffered, adjustable tube effects loop, adjustable unbalanced Line Out and an adjustable Headphone connection.
Power amplifier contains two pairs of power tubes, which will be changed automatically when preamp channel is switched. More over power amp has 2xPPIMV Master Volumes. The other master is for clean channel and the other for crunch and lead channels. With PPIMV you can have power amp distortion also with lower sound pressure. This amp accepts all normal octal power tubes. Power amp contains also Presence and Resonance.
Amp power supply contains an innovative, built in 3-position Variac, which can be used to alter tubes voltages and output power. Amplifier power stage compresses and distorts easier with lower tube voltages.
This amp also has the latest version of  our Bluetone Auto Bias Control-system (ABC). It controls and adjusts power tubes biases automatically. This adjustment can be done either with our Bluetone bias meter, or wireless way with mobile phone or with some other computer. There is a wireless Wlan network inside this amp. It is a modern way to implement new features to this kind of amps, to help for example tubes biasing processes etc.
Amp weight is under 15 kg. Cabinet dimensions: W=63,5 cm, H=24,0 cm, D=27,0 cm.
We do believe that at the moment you cannot find anywhere in the world a similar tube amplifier containing all these features. All those features can be also added to our other Bluetone amplifier models. We do our best to get sound clips of this amp done by the end of this summer.
—————————————————————————————————————————————————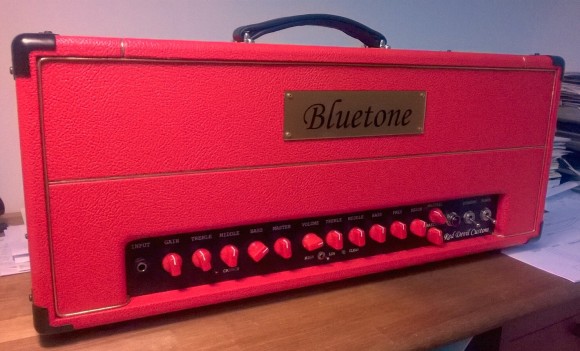 Bluetone Red Devil Custom Head is actually based on Bluetone Dusty Road Head with customized modifications. These modifications are crunch channel modified tonestack, a spring reverb with individual adjustments in both channels, two independent ppimv master volumes. All these functions can be controlled with an outside midi controller. This amp visual outlook is based on customer`s own spesifications.