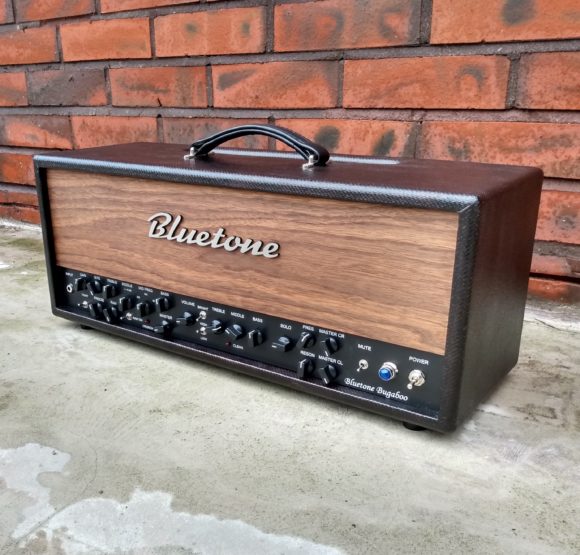 Bluetone Bugaboo is a true modern 2 channel full tube guitar amp. It`s built using hybrid board-technology which is robust and easy to maintain. This amp has independent tone stacks for each channel. Channel, Solo Boost and effect loop switching are operated with a footswitch. This amp was created to meet traditional rock and modern metal playing style demands.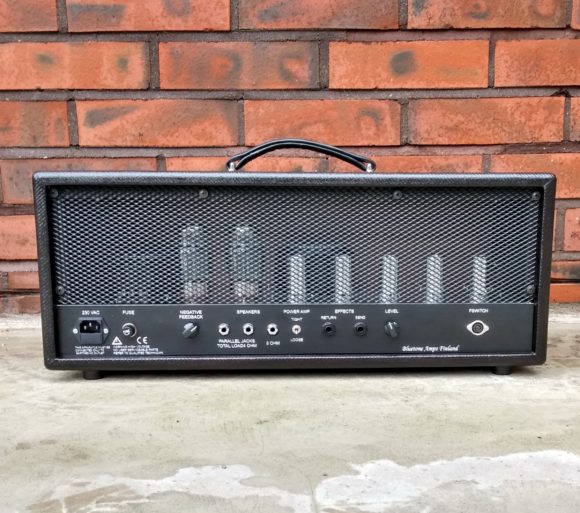 Clean preamp is based on modified Fender black face world. It consists Volume, Low-/High-switch, Treble, Middle, Bass and Master Volume knobs. This channel is very warm sounding creating wonderful Fender-world clean sounds. Due to it`s own PPIMV (Post Phase Inverter Master Volme), you can also have power amp distortion out of this channel.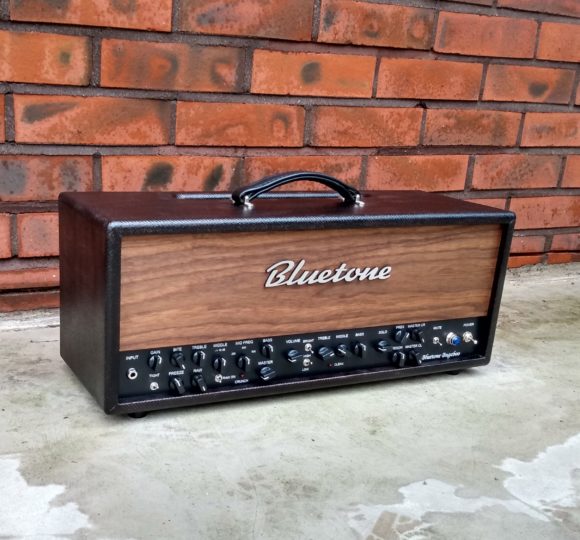 Crunch preamp is based on our own planning and technology. It consists Gain, Treble, Middle, Middle range, Bass, Freeze, Bite and Master controls. Active Middle eq is a new function. It gives more possibilites to create all kind of distortion sounds from old school to modern metal. Raw control adds a gain stage to preamp signal chain. Tight switch shapes also signal from loose to tight if needed.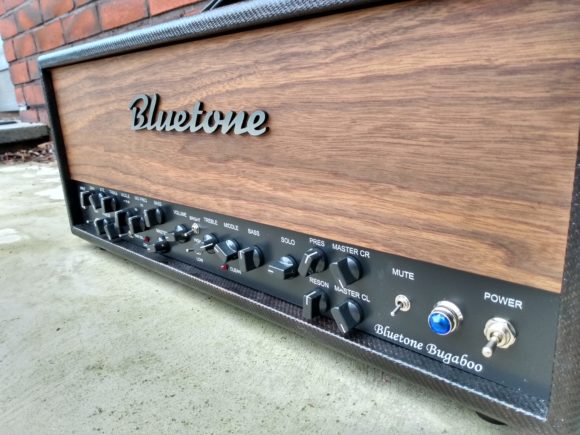 Bite control adds or decreases bite in the beginning of signal chain. It replaces normal overdrive pedals.
Freeze control adjusts second preamp tube bias hotter or colder, which changes this stage distortion charater.
Tight switch adusts preamp sound from loose to tight.
Raw switch adds one gain stage to preamp. Raw control adjusts last preamp stage gain and distortion character.
3-position Middle range (200, 500, 800 Hz) switch alters middle frequencies center point. Middle control is active with -+/15 dB effect.
PPIMV (post Phase Inverter Master Volume) gives possibilites to create also power amp distortion with lower sound levels.
Effects loop: Amp has a buffered effect loop with send level and footswitch. This loop can be used also as a clean boost when there are not effects connected. Front panel switching is an option.
Solo Boost: Amp contains also an adjustable clean/solo boost. This can be switched on with a footswitch.
All preamp tubes and phase inverter tubes are 12AX7/ECC83.
Power amp is cathode biased. It accepts all normal octal power tubes like  2x6L6GC, 2xEL34, 2xKT88/6550 etc., but NOT 6V6GT tubes. There is no need to bias power tubes when changing them. Amp output power is some 30-40 W depending on tube model. Power amp consists following knobs: Presence, Resonance.
Amp weight: 12,9 kg, cabinet dimensions W=62,8 cm, D=22,4 cm, H=26,0 cm
This amp can be equipped with a 2+2 power amp with individual ppimv master volumes for each pair of power tubes. Power tube pairs will change automatically when preamp channel will be changed.
You can have this amp either as a head or a combo version with normal tolex or tweed or with a hard wood cabin. Combo version price depends on speaker elements. In this case you can ask a dedicated offer.
Price list
Bugaboo Head
– Normal tolex with 2x6L6GC/EL34-power tubes 1800 €
– Laquered tweed with 2x6L6GC, 2xEL34 1900 €
– Oiled hard wood cabinet with 2x6L6GC/EL34-power tubes 2050 €
– Normal tolex with half power switch and 4xEL34/6L6GC/6550 power tubes 2000 €
– Laquered tweed with half power switch and 4xEL34/6L6GC/6550 power tubes 2100 €
– Oiled hard wood cabinet with half power switch and 4xEL34/6L6GC/6550 power tubes 2250 €
Effect loop, Solo Boost and PPIMV Master Volume are included to normal prices.
Options:
– 2+2 power amp 220 €
– Tremolo 120 €
– Adjustable, unbalanced Line out with xlr-/jack-connector 80 €
– Sping reverb in clean channel 250 €
– Dust cover for cabinet 50 €
These prices include 24 % VAT and are subject to change without notice.
Here's a video of the updated Bugaboo head:
Here are some sound clips of the older version.
Clean:
80s hard rock:
Metal Rhythm:
Save