Bluetone philosophy: Every customer has individual needs. Plan and build by hand the best world class tube guitar amps for guitar and bass players changing needs. Anyhow do it with a reasonable price. Use only the best normally available components like Hammond, Trafomic, Alpha, CTS, Mallory, Sozo, F+T, EvoxRifa etc. Use over thirty years experience in electronics and playing guitar in different pop-/rock bands. Be innovative and combine well proven traditional solutions with new technology possibilities.
Who are we?
Our key interest today is to build HAND MADE FULL TUBE amplifiers for guitar and bass players. We also do some maintenance and service work for tube guitar and bass amps when needed. We have played a long time in different bands rock and pop music playing with many well known commercial tube amps. That`s why we have always been very interested in good guitar and bass sounds. First Bluetone amps were manufactured by using the experience and knowledge of the best existing tube guitar and bass amps in the world. When we plan and construct Bluetone amps, we use world`s best well known and famous guitar amps as a starting point for own Bluetone products. Why name "Bluetone"? Somehow it reflects the Blue and Brown Blues and Rock`n Roll sounds from Mississippi Delta to other famous music territories in America which is to our mind the origin of real Blues, R&B and R&R.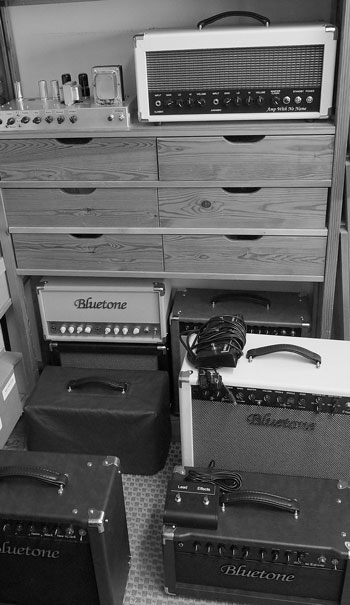 When we build Bluetone products, our main goal is not to create an exact copy of original brands, but to modify original schematics to a point where we can say that we have added some extra to them soundwise. The key goal is to find a combination of singing and musical distortion sounds with a lot of sustain, compression and rich harmonics for lead playing purposes. For rhythm playing our goal is to build amps which are capable for shimmering and sparkling cleans and musical crunch sounds, which to our mind are the best sonically for traditional rock, heavy and blues. we believe that this kind of approach will find it`s loyal supporters all around the music world. All of us need sometimes real Blues and Bluesounds for our hearts and souls.
We also use new technology where ever we can to get more out of Bluetone amps, but we only use it to create better and more useful amps. One example is to use VVR (Variable Voltage Regulator) technology to help better tone out of an amp with lower volumes. We have already installed VVR to many Bluetone amps sucessfully.
If you want to see how Bluetone amps are planned, built and tested, you can watch these 5 Yotube episodes.
They show different building phases of Bluetone Fried Eye Special amplifier:
You can always ask an offer of speakers or empty cabinets if you want to build your own amp or speaker.
Our amplifiers are CE cerificated. We give to Bluetone tube amps 10 years warranty to the first customers. This warranty does not cover tubes because they wear in use, but all other parts of Bluetone amp are under 10 years warranty. Stay in channel.
Harry & Matti
Tube Amp Designers