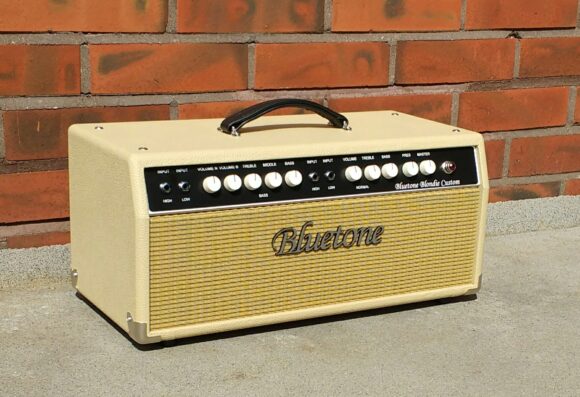 This amp has some Bluetone modifications but is mainly based on Fender "Blonde tolex" Bassman 6G6-B model, which one Brian Setzer made famous worldwide. This amp has two independent preamp channels with own Volume, Treble and Bass controls. There is also a PPIMV Master Volume, which helps to create power amp distortion in bedroom levels. A 2 tube spring reverb and a buffered effect loop can be purchased as an option. Amp output power is app. 20-50 W depending on power tube model. This amp accepts all normal octal power tubes like 6V6GT, 6L6GC, 5881, EL34 etc. There is also an external bias point to make power tube changes and biasing as easy as possible with a Bluetone Bias Rate-meter.
This amp can be equipped with a 2+2 power amp with individual ppimv master volumes for each pair of power tubes. Power tube pairs will change automatically when preamp channel will be changed.
Prices
Blondie Head
– With normal tolex cabin 1550 €
– With laquered tweed 1650 €
– With oiled hardwood cabin 1800 €
Blondie Combo
– With normal tolex cabin and 1×12″ 60 W WGS Veteran speaker  1700 €
– With laquered tweed and 1×12″ 60 W WGS Veteran speaker 1800 €
– With oiled hardwood cabin and 1×12″ 60 W WGS Veteran speaker 1950 €
Options
– 2+2 power amp 220 €
– VVR (Dynamic output power control) 150 €
– PPIMV (Post phase inverter Master Volume) included to price
– Bluetone Bias Rate-meter 120 € when ordering amp, otherwise 150 €
– Bluetone Auto Bias Control system for power tubes biasing and control (includes meter) 180 €
– 2 tube spring reverb 250 €
– Buffered effect loop with adjustable send level 100 €
– Adjustable unbalanced Line Out with xlr-connector 80 €
– Plastic cabin dust cover Head 50 € Combo 60 €

All prices include 24 % VAT and are subject to change without notice.
Sound clips
Sound clips below played by Matti Vartiala.