Bluetone Bass Preamp is a full tube preamp for bass players. It`s circuit is based completely to our own design. It  can be used in live and studio environments. It has adjustable balanced and unbalanced outputs. This preamp is compact sized and can be installed to effect board if needed. It has an external power supply.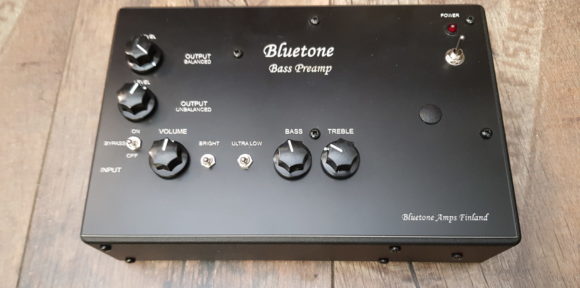 Functions:
Output/balanced: An adjustable, balanced output with xlr-connector.
Output/unbalanced: An adjustable, unbalanced output with stereo jack.
Bypass-switch: Bypasses all active amp stages when needed.
Input-jack: Connect guitar or bass guitar to this jack.
Controls
Volume: Adjusts volume level.
Bright-switch: Adds high frequencies
Ultra Low-switch: Cuts low frequencies
Bass: Controls low frequencies.
Treble: Control high frequencies
Level/balanced: Controls balanced output signal level.
Level/unbalanced: Controls unbalanced signal level.
Tubes
V1=12AX7/ECC83 ja V2=12AU7/ECC82
Technical information:
Weight: 1,2 kg
Dimensions: Lenght: = 22,0 cm, Width: = 14,5 cm, Hight: = 9,0 cm
Warranty
This device has a normal 10 years Bluetone warranty. However it does not cover wearing parts like tubes.
Price
870 € including 24 % VAT